Congratulating Our 2021-2022 National Scholars
Each year the Girls Inc. National Scholars Program receives over 125 applications from girls across the U.S. and Canada. It is a competitive application process, with only 40 girls earning scholarships.
This year, three girls across the Girls Inc. affiliate network were awarded the Suzanne Patmore Gibbs Scholarship in the amount of $25,000.  Girls Inc. of Orange County is proud to share that two of the only three recipients are Orange County girls– please join us in congratulating Bella and Jecy!
Along with our two 12th grade recipients, all three of our 8th grade applicants were awarded the 8th Grade Scholarship in the amount of $500. Congratulations to our 8th grade scholars- Lana, Skye, and Madison!
For months each girl worked with our mentorship team, dedicating countless hours to perfecting their essays and going through multiple edits and revisions in an attempt to put their passion, vulnerability, and personalities on paper.
Keep reading to meet these strong, smart, and bold girls!
Bella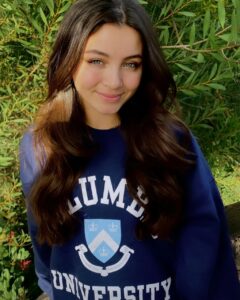 Bella will be graduating this June and has already been accepted to Columbia University, where she plans to major in finance and economics.
Bella struggled to figure out how she would afford her to attend her dream university. When she heard about the Girls Inc. National Scholarship she jumped at the chance to apply.
"I am incredibly grateful to win a National Scholarship because I am independently paying for my college education and this scholarship will significantly help me pay for my tuition. I am also be so thankful to win a scholarship from an organization that means so much to me."
Over the past three years Bella feels that Girls Inc. staff and programs have helped her grow into herself and turned her from a shy and quiet girl, into a strong and confident one. She hopes to one day be able to give back and help other girls, like herself, grow into themselves.
"Girls Inc. has helped me so much, especially with my college application. I've received so much support and feedback while I was writing my essays. Also, I have been given access to scholarships and mentorship that will help me financially navigate my way through college. I hope to one day be on the executive board of the national Girls Inc. organization and give back to the organization that has helped me so much."
Jecy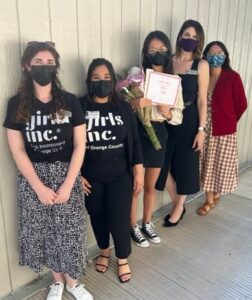 Jecy will be graduating this June and hopes to attend Chapman University, where she intends to major in their Pre-Pharmacy program so that she can pursue her dream of becoming a pharmaceutical scientist and create medications to help cure Alzheimer's Disease.
As a female interested in STEM, Jecy found that she struggled to find female mentorship and support at school. Hoping to gain some support and mentorship, she signed up for Girls Inc. of Orange County's Girls Meet the Workforce Externship Program, where she interned at Allergan Aesthetics.
"I was heavily inspired by this experience that Girls Inc. offered and hope that someday, I can break the gender stereotypes and become a significant female figure in the pharmaceutical industry. From being surrounded by inspiring female employees from the company to having empowering conversations with my female mentor, I learned to challenge myself to gain the courage to speak out and share my opinions. This program also encouraged me to dive deeper into the world of research."
Jecy felt heard and supported, not only by her mentors, but by her fellow Girls Inc. girls.
"I felt heard by the other girls who courageously shared their experiences about the gender gap in the STEM field. From the encouraging words that were shared, I felt more confident in my skills in speaking out, collaborating, and most importantly, coding. I had the chance to interview female employees at Allergan Aesthetics. Each of their journeys in the STEM field inspired me. Their stories helped me gain confidence to face future workforce challenges as a female. The empowerment that I felt from the all-girls environment left a meaningful impact on me as I felt heard and accepted."
Jecy hopes to take the lessons she's learned as a Girls Inc. girl into her STEM career, and hopefully change it for the better.
"I want to prove them wrong. I don't only want to stand up for myself, I also want to represented the fact that women can do anything, just like men, and do it even better."
Lana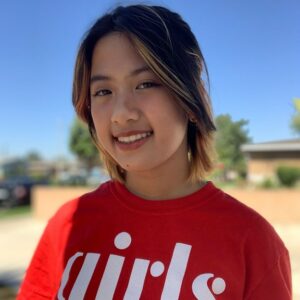 Lana is currently an 8th grade student who has participated in Girls Inc. programs for five years. Through our programs Lana has learned more about herself and what she wants for her future.
"My favorite experience since being a part of Girls Inc. was the 2017 Smart-Ups Program. To this day, I still use the skills and lessons I learned about entrepreneurship."
With Girls Inc. Lana has built her confidence and her passion for business and entrepreneurship.
"Girls Inc. has helped me become successful by teaching me how to appreciate myself and to remember I can achieve anything. Without Girls Inc., I wouldn't have had the confidence to take on all the projects I've done before. In the next few years, I see myself studying more about entrepreneurship and maybe even starting a business."
Skye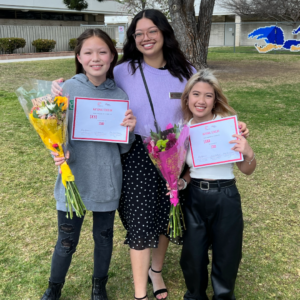 Skye is currently an 8th grade student. In 5th grade Skye struggled with anxiety and self-esteem, her grades began to fall and she slowly lost all confidence in herself. Hoping to help, her mom signed her up for Girls Inc. of Orange County's Smart-Ups Summer program.
"I was extremely hesitant. I did not enjoy the thought of spending a full day with people that I didn't know. Little did I know that over the next 4 weeks, I would have one of the greatest experiences of my life."
After finishing the Smart-Ups program, Skye felt more confident than she ever had before and wanted to continue to grow with the support from her Girls Inc. family.
"After I finished the program, I felt so different but I immediately knew I wanted to go back. I knew I would have validation and support from staff, and I would have my voice uplifted and respected there."
Taking the lessons she learned into the school year, Skye began to succeed in school and even become more involved in leadership, becoming her 6th grade student council president.
"Girls Inc. helped me to master my leadership skills and gave me the confidence to run for student council president in 6th grade. The skills I developed during this program helped me to win the election and talk with district officials about environmental concerns I had. All in all, Girls Inc. helped me to break out of my shell and express myself more. The opportunities to continue to grow at Girls Inc. are endless. I know that my voice will always be heard at Girls Inc."
Madison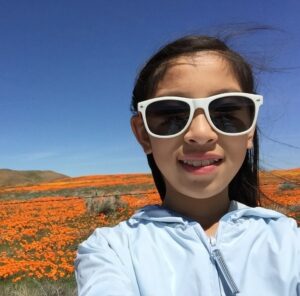 Before joining Girls Inc. three years ago Madison felt that she struggled to connect with her peers. Madison focused on school and felt that her only value was as a student, but not as a friend or leader. Hoping to build her leadership and social skills, she joined Girls Inc. of Orange County's Smart-Ups program.
During the Smart-Ups Showcase, Madison's peers and the Girls Inc. staff chose her to become their "sales manager," where she would have the opportunity to interact socially and promote their project.
"I was shocked when I was chosen to be the sales manager. It gave me so much validation. As a sales manager, it's crucial that you're able to communicate well. I felt so proud of the way I was able to encourage customers to want to come to our business."
Madison feels that Girls Inc. has helped her to find her voice and to value herself.
"All of the staff, leaders, and my peers have taught me things that I would not have learned elsewhere. Winning this National Scholarship means everything to me. Of course, the money to help me advance in my education is a good, but winning this scholarship provides something so much more valuable to me. Validation. It allows me to prove not only others, but myself that I am strong enough, smart enough, and bold enough."
We are so proud of our National Scholars and are so excited to see what these strong, smart, and bold future leaders do next.