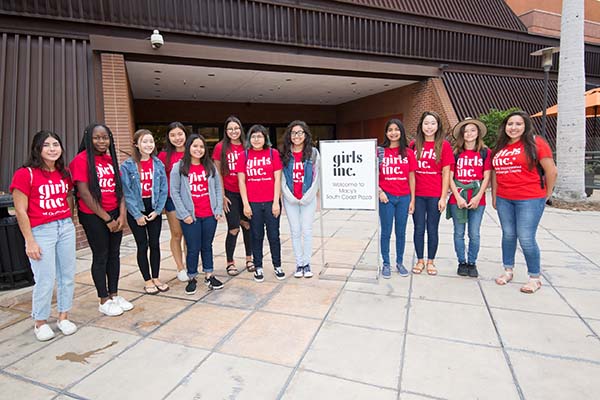 by Laurie Goodman
On June 27th, 85 excited teen girls boarded buses to attend one of the highlights of the Externship Program, Macy's Day at South Coast Plaza.  Macy's welcomed Girls Inc. Externs into the store for a day of shopping, mentoring, workshops, and lunch.
Macy's is there for families during significant life milestones such as weddings, graduations and all the big moments in life.  As a long-time partner with Girls Inc., Macy's is helping 85 young women take their first steps into the workplace.  Employees from all over Macy's stepped up to make sure that these young ladies are prepared to enter the workplace with confidence.
Starting with one girl in 2010, the Externship program at Girls Inc. is up to 85 girls who receive as many as 150 hours of training throughout the year leading up to a summer "on the job" externship.  Because Girls Inc. and Macy's believe that girls and women should have equality in the workplace, Macy's employee's provided their time to mentor girls as they prepare to step into corporations and organizations such as Allergan, Edwards Lifesciences, PBS, the Public Law Center, and many others.  Girls were treated to a welcome breakfast followed by workshops and demonstrations such as dressing for success, how to interview for a job, and makeup instruction.  Employees then helped each girl choose a professional outfit to get them started.  The day ended with a lunch catered by the Wolfgang Puck Café.
Macy's provided a $10,000 grant for the College Bound and Externship program in addition to providing each of the 85 girls with $100 to purchase professional clothing.  For many, this instruction and clothing are critical for their success.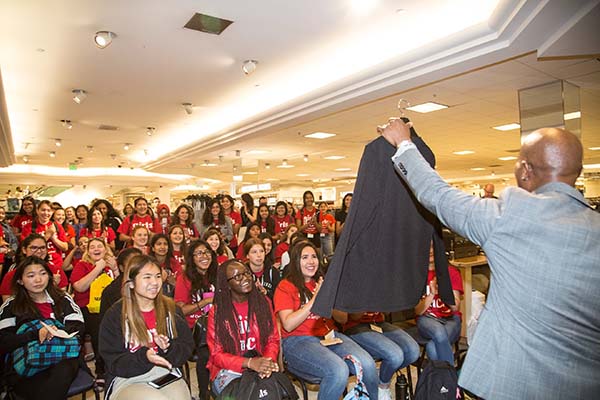 "My Mom worked long hours and took on taxing jobs to overcome our financial struggles and to present me with a brighter alternative than the one she experienced growing up.  I didn't get to spend the amount of time with her that I needed and wanted, but even at a young age I understood that our time apart had a purpose.  Since my mother was unable to continue her studies, she did her best to give me the education she never had.  Through the Girls Inc. Externship Program, I externed at Allergan, a pharmaceutical company, and gained clerical skills; through the robotics Camp, I learned more about computer programming.  My world expanded as a result of Girls Inc; I have become more assertive in reaching my goals and upholding my values.
 I was placed at Allergan.  I was so nervous…stand up straight…remember the right hand shake; the way we practiced during training week, I thought to myself.  As an extern in the Human Resources Department, I gained skills I have never been exposed to, such as corporate management, public speaking, and advanced computer skills.  I filed important documents, created surveys, took inventory, made graphs, and worked with a diverse group of professionals.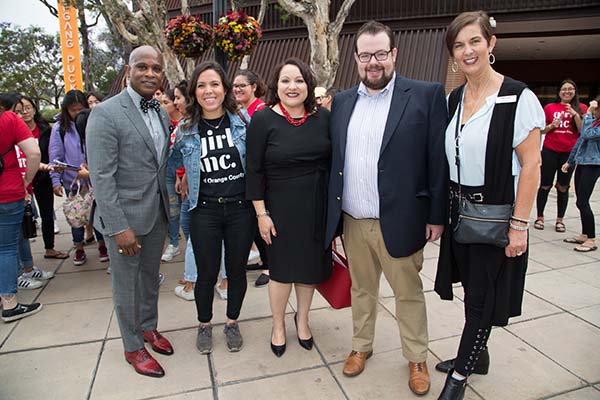 The day after I finished my externship, I started work at ABM – a janitorial services company.  I was hired with my Mom's reference since she had worked for them.  We were assigned to the Westminster and Santa Ana courthouses.  My experience at ABM was the polar opposite of my experience at Allergan.  With gloved hands, we picked up rotten bananas, moldy sandwiches, state mild, and other trash.  We picked up every piece of trash in the jail cells.  For four weeks, five days a week, I hated it.  I pulled through because my Mom had done it for years.  I felt relieved once I took my dirty blue polo, jeans, and running shoes off.
 As a result of my Girls Inc. Externship, I realized the importance of pursuing a career that acknowledges my creativity and knowledge, not just my physical strength.  I have a choice in determining the direction of my future, something my Mom didn't have.  Maybe that is why I didn't want to add trash to my trashcan: deep down, I wanted to make my Mom's job easier.  I now see that by insuring a better future for myself, I inspire my Mom to envision a brighter future for herself, too."
More on Macy's Day:
Article in LA Times: http://www.latimes.com/socal/daily-pilot/news/tn-wknd-et-girls-inc-20180628-story.html#
Fox News: http://www.foxla.com/news/343169158-video
Additional Photos: https://cbgraphy.pixieset.com/gilrsincatmacyssouthcoastplaza/