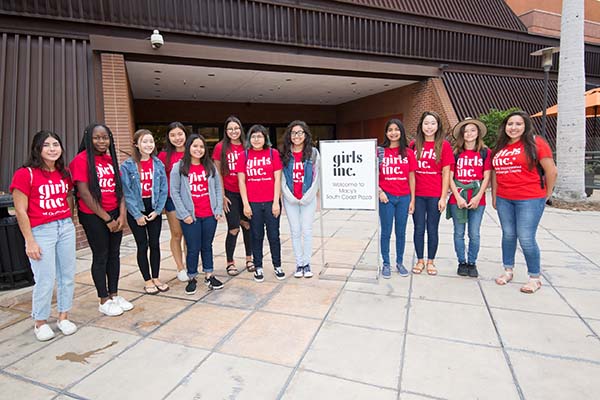 by Laurie Goodman
On June 27th, 85 excited teen girls boarded buses to attend one of the highlights of the Externship Program, Macy's Day at South Coast Plaza.  Macy's welcomed Girls Inc. Externs into the store for a day of shopping, mentoring, workshops, and lunch.
Macy's is there for families during significant life milestones such as weddings, graduations and all the big moments in life.  As a long-time partner with Girls Inc., Macy's is helping 85 young women take their first steps into the workplace.  Employees from all over Macy's stepped up to make sure that these young ladies are prepared to enter the workplace with confidence.
Starting with one girl in 2010, the Externship program at Girls Inc. is up to 85 girls who receive as many as 150 hours of training throughout the year leading up to a summer "on the job" externship.  Because Girls Inc. and Macy's believe that girls and women should have equality in the workplace, Macy's employee's provided their time to mentor girls as they prepare to step into corporations and organizations such as Allergan, Edwards Lifesciences, PBS, the Public Law Center, and many others.  Girls were treated to a welcome breakfast followed by workshops and demonstrations such as dressing for success, how to interview for a job, and makeup instruction.  Employees then helped each girl choose a professional outfit to get them started.  The day ended with a lunch catered by the Wolfgang Puck Café.
Macy's provided a $10,00