by Laurie Goodman and Olivia Haagenson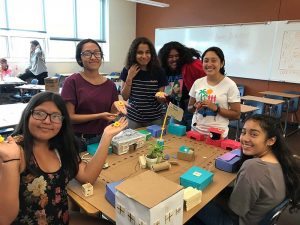 What were Girls Inc. girls up to this summer?  Eureka! girls were learning to engineer a chair out of paper, code a robot to go through an obstacle course, and analyze a crime scene to name just a few.  Each July, Girls Inc. girls gather on a college campus for four weeks to learn about STEM (Science, Technology, Engineering, and Math) subjects, financial literacy, advocacy, health and wellness, leadership, friendship, courage, and themselves.  Alongside, students from Duke University, high school girls had the opportunity to peer teach middle school girls coding, hosted by "Made with Code" parties.
A favorite activity this year was learning to be an advocate.  Girls worked in teams to advocate for issues of their own choosing that were important to them.   Issues were local and global and included subjects such as healthy body image and body shaming, gender equity, and environmental issues.  Girls researched an issue and prepared a presentation to present to their families and community members at the program finale – Eurekathon!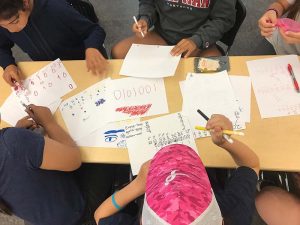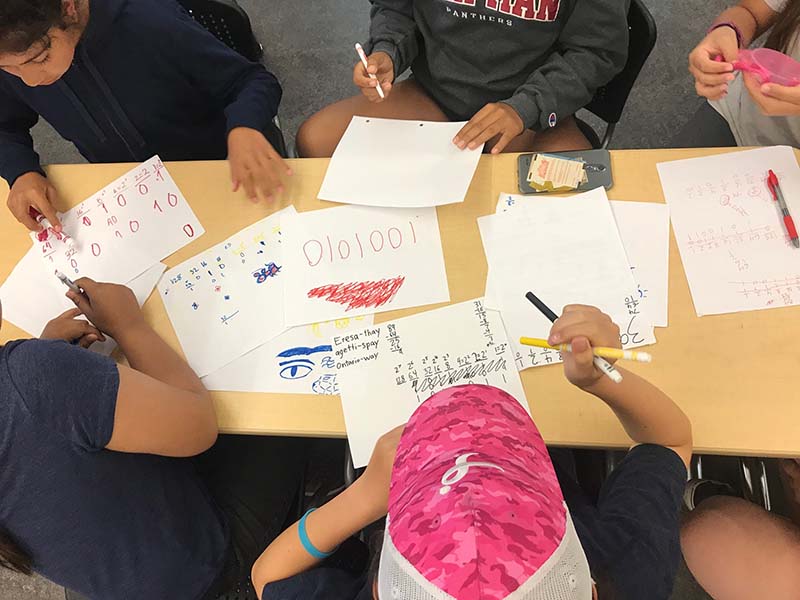 Of course, it would not be Eureka! without fabulous field trips.  This summer girls visited California Adventure and learned about the physics of Disney's coolest coasters.  They also visited Knotts Berry Farm, and Corona Del Mar Beach.  A favorite was getting to meet an Orange County K-9 officer and her partner Wolf and learning about this part of law enforcement as a career.
All of these activities focus on helping girls get excited about STEM and to learn valuable life skills that will help them become strong, smart, and bold women.  Our community, our state, and our country are facing a critical shortage of STEM workers even though these will be the largest growing sector of jobs and some of the highest paid.  Women are woefully represented in these fields.  Girls Inc. girls can help change that.  They are capable and interested in STEM given the opportunity.  Eureka! brings them up close and personal to subjects in a fun and engaging way.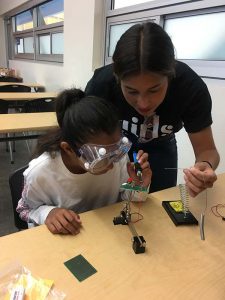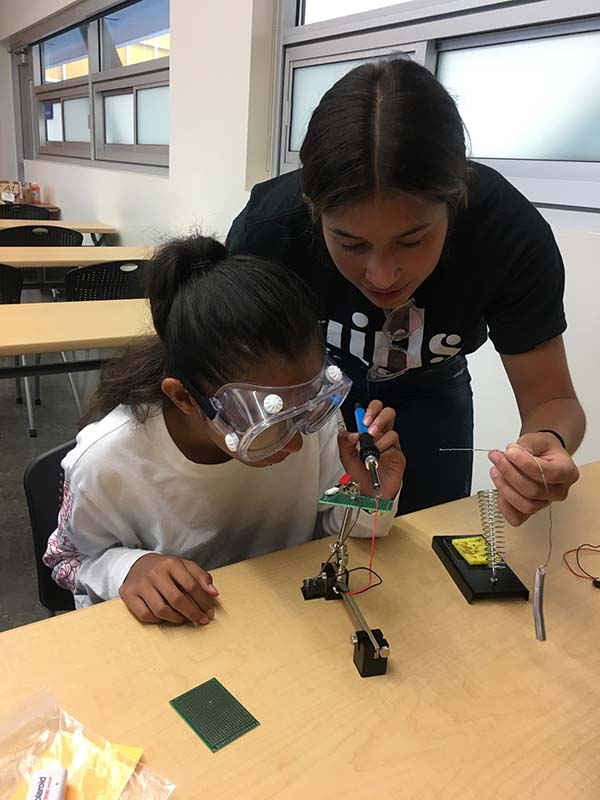 N'Dya is a perfect example of a strong, smart, and bold Girls Inc. girl. She is a 9th Grader from Corona, CA. She loves to dance, play basketball, and more recently, critically think through complex math problems. Being the only girl on an all-boys basketball team, as well as being the only freshman on her high school's varsity team, requires high levels of discipline, strength, and courageousness. Since N'Dya started at Eureka two summers ago, she has set a similarly bold example for her peers- throughout all the STEM classes and workshops N'Dya was a focused and inspirational Girls Inc. leader.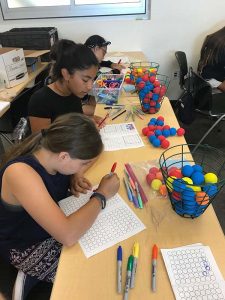 During the "Crack the Code" STEM Workshop, the participants were doing activities to help them learn binary. One challenge activity split the class in half and had them make letters of the alphabet in binary using their bodies, sitting for zero and standing for one. N'Dya was clearly leading her team and helping place them in their binary order. "Zero! One!" she would say as she pointed to the spot each team member needed to go. While a few of the participants were lacking interest and enthusiasm in the activity, she used her leadership skills to not only include, but fire up the rest of her teammates. N'Dya led her excited group to success as they won the human binary challenge, with high-fives from her all around.
Later in the class, the girls were instructed to make their own coded messages with binary. N'Dya went above and beyond and even stumped the STEM facilitator- she had used binary to code a full page long message. Beaming with excitement, N'Dya handed the paper over and challenged the facilitator to solve it. Chatter erupted as her classmates huddled around her coded message to get a closer look. N'Dya had made STEM engaging, and even cool, to her high school peers. She herself was excited to let the other facilitators know about the fun she had learning binary, and told the staff all about her new interest in math and problem-solving.
It will be exciting to see what contributions N'Dya will make in the future.