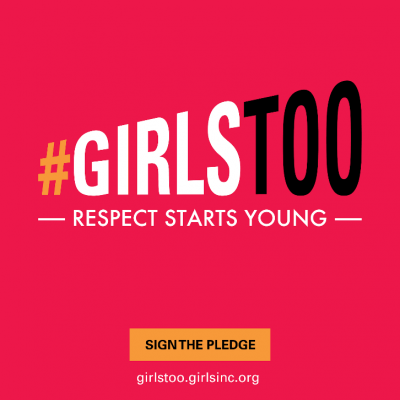 By: Zarina Yunis
The movement against sexual harassment and sexual assault reached an international audience in late 2017 after several American actresses shared their experiences with sexual harrassment publicly using the #MeToo on their social media accounts.  Tarana Burke, a social activist, originally coined the phrase back in 2006, in an effort to show solidarity with other women like herself who had also experienced sexual harassment and assault.
Women are not the only victims of sexual harassment, girls too are also affected.  In fact, 7 out of 10 girls experience sexual harassment before they leave high school and 1 in 4 girls will experience sexual abuse or assult before she turns 18.  Respect starts young, and Girls Inc. wants to be part of the movement to tackle this issue and seek solutions to stop it. Last fall, they launched a nationwide #GirlsToo campaign to do just that.
As part of its mission, Girls Inc. OC encourages young women to be Strong, Smart and Bold.  These girls are prepared and stand up for themselves.  To join the national #GirlsToo effort, on April 4, 2019, Girls Inc OC hosted a Teen Town Hall at Rancho Santiago Community College to discuss these very issues and provide information for girls and families to create a culture that is healthier and safer for all young people.  The youth-led discussion featured high school students from various Orange County high schools.  These young women described their experiences and sometimes their lack of ability to receive support from teachers and administration. Various organizations attended the town hall and provided information and resources for girls and young women.
Girls Inc. OC urges all girls and young women, their families and the community to take the #GirlsToo pledge to be part of the solution: girlstoo.girlsinc.org
#GirlsToo Pledge:
I believe that every person deserves to be treated with dignity and respect.
I commit to changing the ways our culture perpetuates violence against women and girls.
I will respect others and honor their right to say no.
I will not accept sexual harassment and violence as part of growing up.
I will reflect on my own beliefs and behaviors related to gender and sex and challenge others to do the same.
I will take action to prevent and respond to sexual harassment and violence and support survivors.
"#GirlsToo is a national campaign to shift the deeply entrenched norms that lead to sexual harassment and violence in our society, and to create a culture where all girls and young people grow up safe, respected, and valued.  There is strength in numbers.  Show your commitment to end sexual harassment and violence among youth by signing the pledge. Together, with your support, we can create a culture where everyone is respected and valued."
Support Hotline:
Call 800-656-HOPE(4673)
Get help now by connecting with a trained staff member from RAINN and you will be routed to a sexual assault service provider in your area.